In response to global climate change and fulfilling the responsibility of jointly protecting the global environment, Siward will reduce the impact of climate change, Implement various energy saving and carbon reduction related measures to effectively reduce carbon emissions and meet international standards.
Passed the verification of ISO14064-1 Greenhouse Gas Inventory Management System, with organization as the basic requirement structure, Principles and requirements for the design, development, management and reporting of GHG inventory. Including the definition of greenhouse gas emission boundaries, quantification of the part of the organization's greenhouse gas emissions and removals, And identify the requirements of the organization-specific greenhouse gas management improvement measures or activities, so as to focus on the quality management of the inventory, Requirements and guidelines for reporting, internal auditing, and the organization's responsibilities for verification activities. In the first quarter of each year, the greenhouse gas inventory and consolidation of the previous year will be completed, and the greenhouse gas emissions will be reduced by 50% in 2035. and target net-zero emissions by 2050.
Energy Saving and Carbon Reduction Activities
Implement energy-saving and carbon-reduction measures for the whole plant, and implement them in projects such as electricity, air-conditioning, gas, lighting, and water to effectively reduce carbon emissions. Save company expenses. Pay attention to the green planting and environmental maintenance in the factory area, with a green coverage rate of 34% to provide employees with a good working and living environment.
Energy Saving and Carbon Reduction Activities
The energy-saving scheme of replacing T8 lamp tubes with LED lamp tubes in the production line on the third and fifth floors

Energy-saving solution for installing microwave sensors in corridors on the third to fifth floors to control lights

The restaurant is replaced by LED panel lights to save energy

Energy-saving solution for replacing T8 lamp tubes on the fourth floor production line with LED lamp tubes
Solar power generation system (Green power generation)
Taiwan's natural resources are insufficient, so develop environment-friendly "clean" energy to ensure a continuous supply of "stable" energy, so as to create a win-win vision of intergenerational energy, environmental protection and economy. Implement the goal of "use green electricity, love the earth" and enhance the company's image.
Solar Power Generation System Power Generation (kWh)

Greenhouse Gas Management
Actively cooperate with the government to advocate corporate greenhouse gas inventory operations, implement the greenhouse gas management mechanism in the factory, and comprehensively promote the inventory and verification of greenhouse gas emissions.
Scope 1: Direct GHG Emissions
(tons CO2e)
Scope 2: Indirect GHG Emissions
(tons CO2e)
Overall Carbon Emissions
(tons CO2e)
Overall Greenhouse Gas Emissions Intensity
The impact of climate change is increasing day by day. In order to mitigate climate change and reduce greenhouse gas emissions, we analyze the overall carbon emissions in the plant, seek opportunities for reduction, and propose relevant improvement measures to gradually improve the reduction performance.
Emissions Intensity (overall emissions/Revenue)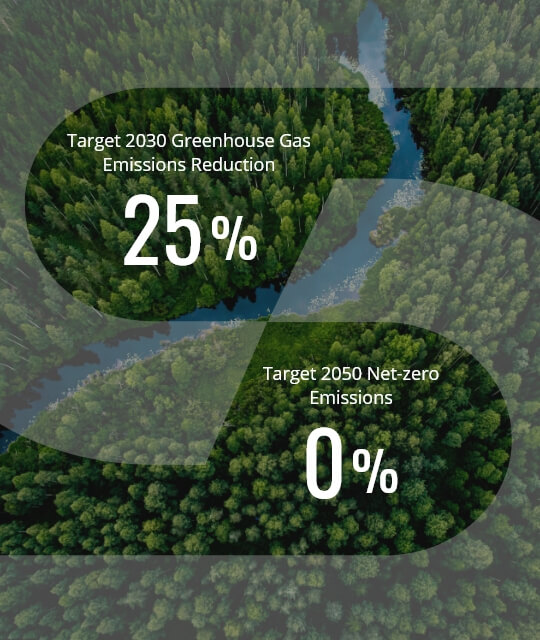 Home
ESG
Greenhouse Gases