Environmental Policy
01
Increase efficiency on use of resources, and avoid waste of resources.
02
Ensure all manufacturing processes, products, and services to be complied with laws, and other regulations.
03
Devote to decreasing industrial wastes and pollution.
04
Strengthen communication between benefit relationship holder internal and external.
We are certified by ISO14001 in 2003, based on the principle of pollution prevention, improvement continuously, and reduction of industrial wastes and yearly increasing of the ratio of recycle and reuse wastes.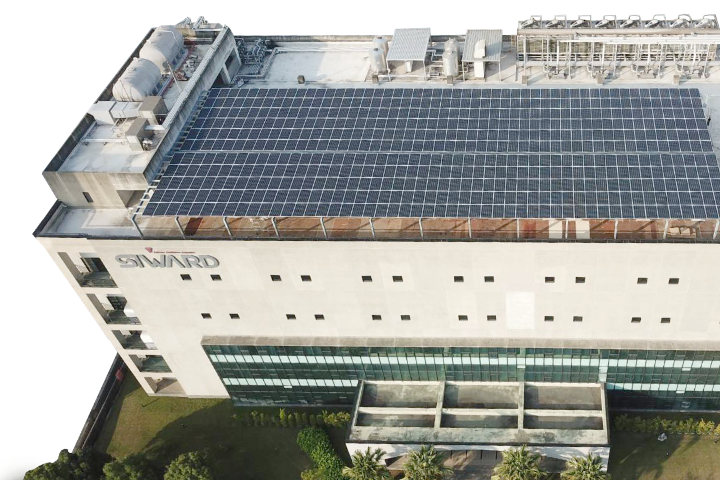 Below are Siward's Action to the Environmental Protection
Prevention of Waste Water Pollution
In order to raise up the efficiency of waste water treatment, waste water is treated by its properties and is monitored periodically. By periodically exam the quality of effluent to ensure the pollutant in the effluent is below law's limits.
Management of Industrial Wastes
To classify and permanently storage the industrial wastes and then commit to an authorized legal waste clearance and disposal organization for disposing and declare related data on the website. To recycle and reuse the industrial wastes is a priority, furthermore, by incinerating and land-filling. The ratio of recycling and reusing the industrial waste is 32% in 2008 raised up to 43% in 2015, which is effectively mitigate the load of environment.
Carbon Reduction Activities
Whole plant carbon reduction measures implemented since 2003, implemented in the electricity, air conditioning, gas, lighting, water, resource recovery, disable disposable chopsticks and other projects to reduce carbon emissions to save the company expenses. Focus on green plant, planting and environmental maintenance, planting green cover rate of 34 % provide employees excellent working and living environment.
Greenhouse Gas Emissions
In response to global climate change and fulfilling the responsibility of jointly protecting the global environment, the company will conduct annual statistics on carbon dioxide emissions from water and electricity consumption as an evaluation for future management improvement.
Home
ESG
Environmental Protection